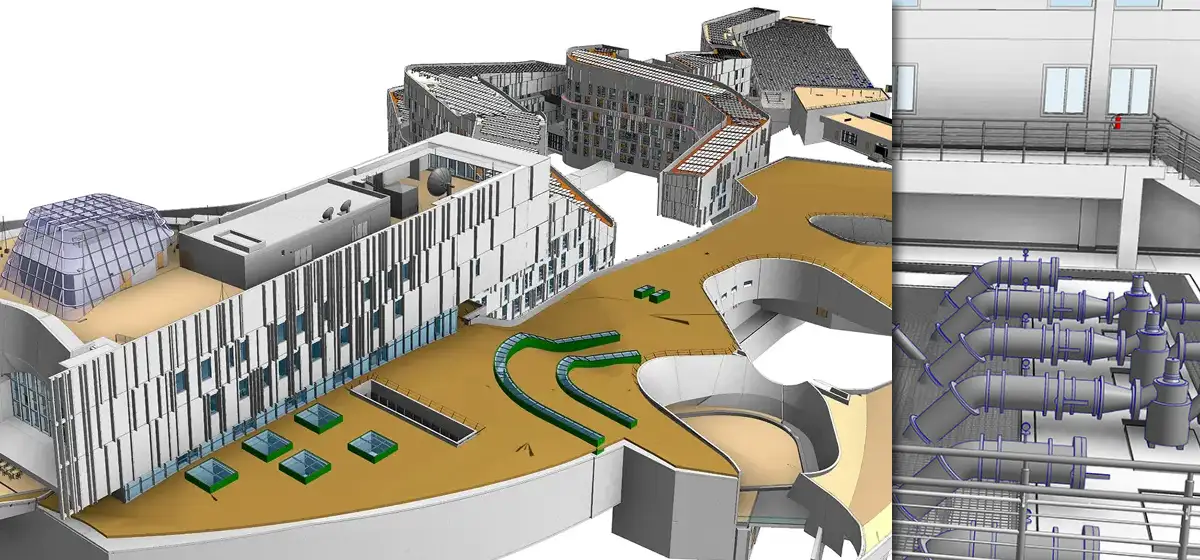 BIM Courses
Our BIM courses cover all disciplines and all levels. At ETC, we can lead you to BIM Architecture, BIM Structure, BIM Mechanical and BIM Electrical expertise.

We started training people in 2006 when some of our students were very young. When the market began to adopt Revit in 2014, we created BIM International and helped our clients model complex projects such as the ABC Mall Verdun Street and the American embassy. We customized our training and exceeded the quality of courses international companies offer. Our free online exam became a tool used by many companies to assess new employees. With all modesty, we are simply the best.
---
---
What is BIM?
BIM stands for building information modeling. It is a computer design concept and not a software name. Any object-oriented design software is BIM. In Revit, we use objects to create buildings, such as walls, floors, doors, windows, stairs, and columns, instead of lines and arcs. Suppose we update an element, such as deleting, moving, or changing a door type. In that case, Revit instantly updates all the views and the quantity reports—this design methodology greatly improved design workflow, clash detection between objects, and coordination among various disciplines. Revit is BIM. AutoCAD is not.
We organized this course to include materials common to all disciplines, such as the interface, working with levels and grids, managing views, editing commands, controlling object properties, importing components, detailing, annotating, and preparing quantity reports and layouts. We also go through the workflow of designing a building's architecture, from foundations to roofs. This workflow is necessary for MEP and Electrical modelers to learn how to coordinate with architects later on.

This course structure is unique to ETC. There is no such program anywhere around the globe. Thousands of our students tested it and approved our approach. It enabled us to reduce the number of classes offered to organizations and students and to provide competitive fees.
This course covers materials common to structural engineers and architects, such as foundations, topo surfaces, conceptual designs, views, and families. We also dive deeper into structural elements, walls, curtain walls, ramps, floors, roofs, ceilings, stairs, and railings.
By the end of the course, structural drafters and engineers should be able to model a building's structure completely excluding rebar and reinforecements, which we cover in Revit 4. Likewise, architects should be able to model a building's architecture with full details.
With a solid foundation with Revit 1, Mechanical and Electrical engineers are ready to specialize in the MEP aspects of the Revit software. In the first few sessions, they will learn how to quickly set up a ducting and piping system. After that, the course progresses from mechanical and plumbing to electrical systems. Many sessions are common to both disciplines. However, Electricals may omit some lessons dedicated to ducting and piping systems.
All disciplines are reunited again in this course. They learn common aspects such as work sharing, collaborating, managing projects, and design analysis. However, mechanicals and electricals may omit the last sessions dedicated to creating complex architectural families and masses.
In this course, we focus on placing rebars inside different structural elements as per international standards (ACI318-19 code). In addition, the participant will learn how to generate quantity reports for steel and concrete and prepare shop drawing sheets for execution.
Designing complex cladding and Façades is challenging in Revit. We facilitate this process by focusing on creating adaptive components and conceptual masses. We model in-class curtain panel walls, curved walls with wood louvers, bamboo frames on house facades, perforated ventilated façades, wavy wood façades, and parametric warped walkways.
When designing complex models, we often encounter repetitive tasks such as creating a steel canopy of 780 beams on top of the ABC mall, placing 200 solar panels on top of the factory roof to track the sun, and creating facades with panels angled. We often retrieve data from Excell sheets to automatically generate the model. There is no need to learn to program. Instead, we use Dynamo for Revit to visually and graphically build the program by connecting nodes.
Suppose you used AutoCAD Civil 3D to create the project infrastructure and Revit to model the buildings and the MEP elements. Next, you use Navisworks to import all these models into the Navisworks environment to view, navigate, measure, and analyze them as a single project. In addition, you takeoff quantities, annotate, detect and manage clashes and clearances, and animate work in progress (4D Simulation). Finally, you can use the software to export data to Excel to analyze costs (5D BIM).
Workshops
We offer our clients dedicated workshops to boost their production skills. For example, we work with them on a project of their choice after Revit 2 to apply the skills they acquired in the first two courses. We also offer customized workshops on project setup, advanced topo surface modeling, and site planning and management.